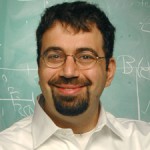 Daron Acemoglu
Daron Acemoglu is the Elizabeth and James Killian Professor of Economics at the Massachusetts Institute of Technology. In 2005 he won the prestigious John Bates Clark medal, awarded to the best economist under 40.
Books by Daron Acemoglu
"A new book by Daron Acemoglu and Simon Johnson, Power and Progress, both economists who like to look at the lessons of history and the bigger picture (this book starts with a discussion of Jeremy Bentham and his panopticon). Power and Progress is above all a call to action. As the authors write, 'Today's 'progress' is again enriching a small group of entrepreneurs and investors, whereas most people are disempowered and benefit little…Confronting the prevailing vision and wresting the direction of technology away from the control of a narrow elite may even be more difficult today than it was in nineteenth-century Britain and America. But it is no less essential.'" Read more...
Notable Nonfiction of Early Summer 2023
Sophie Roell, Journalist
Interviews with Daron Acemoglu
The US, the UK and many other countries around the globe have become far less equal over the past 30 years. It's important we understand how and why this happened, and what it means for our societies, says Daron Acemoglu, a professor of economics at MIT. He recommends the best books to get a better understanding of inequality.
Interviews where books by Daron Acemoglu were recommended
As high summer hits the northern hemisphere, Sophie Roell, editor of Five Books, takes a look at the many nonfiction books published over the last three months. With so many books coming out that are both readable and written by people who know what they're talking about, reading remains one of the most enjoyable ways to make sense of the world around us.