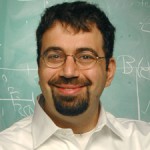 Daron Acemoglu
Daron Acemoglu is the Elizabeth and James Killian Professor of Economics at the Massachusetts Institute of Technology. In 2005 he won the prestigious John Bates Clark medal, awarded to the best economist under 40.
Interviews with Daron Acemoglu
The US, the UK and many other countries around the globe have become far less equal over the past 30 years. It's important we understand how and why this happened, and what it means for our societies, says Daron Acemoglu, a professor of economics at MIT. He recommends the best books to get a better understanding of inequality.