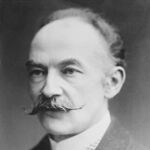 Thomas Hardy
Thomas Hardy  (June 1840 – January 1928) was an English novelist and poet.
Books by Thomas Hardy
"Jude the Obscure is about a poor young man, a country boy, who is inspired by the example of his village teacher to commit himself to studying so that he can go to Christminster (which is transparently Oxford). For various reasons, he fails, and makes a series of disastrous decisions, and he is rejected in any event for reasons beyond his control and he dies. The epigraph is all about Christianity and the divorce laws and about the self-destructive possibilities in literary ambition itself. Jude wants to study, and he immerses himself in the Classics and so on, and, in the end, it's that ambition that does for him. So it's a curiously self-cancelling work in that way." Read more...
Anthony Julius, Lawyer
"It's very much about trying to find a place of happiness for yourself in a world full of obstacles, in a terrible maze of social change and convention at the end of the industrial revolution." Read more...
The best books on Coming of Age
Meg Rosoff, Children's Author
Interviews where books by Thomas Hardy were recommended
The award-winning novelist talks about coming-of-age tales, highlights the wonder of the moment when adolescents find the world suddenly leaping into focus
As both a solicitor advocate and literary scholar, Anthony Julius occupies a privileged place to navigate complex interactions between literature and law. He picks the best books on censorship, including three novels subjected to their own censorship controversies.