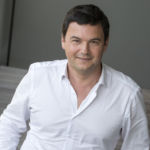 Thomas Piketty
Thomas Piketty is a French economist whose work focuses on wealth and income inequality. He is a professor at the School for Advanced Studies in the Social Sciences and at the Paris School of Economics. He is the author of the best-selling book Capital in the Twenty-First Century.
Interviews with Thomas Piketty
Throughout history, social and economic inequalities have been fueled and justified by different ideologies. French economist Thomas Piketty's latest book, Capital and Ideology, looks at the advent and fall of these ideologies, and how they could evolve in the future. He recommends five great books to better understand these complex and always-evolving ideas, and their consequences for the world.
Interviews where books by Thomas Piketty were recommended