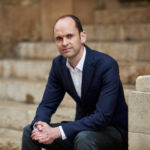 Toby Ord
Toby Ord is a Senior Research Fellow at the University of Oxford's Future of Humanity Institute, where his work is focused on existential risk. He founded Giving What We Can, an international society whose members pledge to donate at least 10% of their income to effective charities, and is a key figure in the effective altruism movement, which promotes using reason and evidence to help the lives of others as much as possible.
Books by Toby Ord
"It is making the case that there is a serious chance of an existential catastrophe in our lifetime, an event that would permanently foreclose on all of humanity's future potential. Some such risks include the extinction of humanity by engineered pathogens or a takeover by a rogue AI or AI systems that have advanced to be more intelligent than humans but don't share our goals. Also, more familiar events like asteroids, super volcanoes and so on. He gives us this amazingly detailed and balanced account of those different existential risks and what we can do about them. I think his case is fairly compelling." Read more...
Will MacAskill, Nonprofit Leaders & Activist
Interviews with Toby Ord
'Big history' looks at history on the timescale of the Earth and the universe, rather than just the short period of time that humanity has been around. Here, Toby Ord, a moral philosopher at Oxford University's Future of Humanity Institute, recommends books to get a handle on it, and explains why now is a critical time for Homo sapiens.
Interviews where books by Toby Ord were recommended
There is so much suffering in today's world it's hard to focus attention on future generations, but that's exactly what we should be doing, says Will MacAskill, a leader of the effective altruism movement. Here, he introduces books that contributed to his thinking about the long-term future and the "silent billions" who are not yet able to speak for themselves.