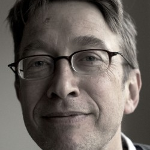 Will Hobson
Former contributing editor to Granta Magazine and Books, Will Hobson wrote The Redstone Inkblot Test, a character test based on respondents' reactions to different inkblots. He is also a writer and translator from French and German. His translations include the Goncourt-winning The Battle by Patrick Rambaud (Picador), Sans Moi by Marie Desplechin (Granta) and Being Arab by Samir Kassir (Verso), which won the Index on Censorship Freedom of Expression Award 2007. Canongate will publish his translation of Michel Schneider's novel about Marilyn Monroe and her last analyst, Marilyn, Dernières Séances, next year. His next project for Redstone Press, Knock, Knock! Who's there? We Are! is about enjoying family life.
Interviews with Will Hobson
The author of a modern, inkblot-based character test discusses the history and cultural resonances of the inkblot, from Victor Hugo to Andy Warhol.