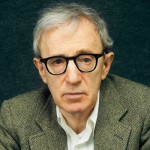 Woody Allen
Director, actor, author, comedian, clarinetist, playwright and screenwriter, Woody Allen is the winner of a career Golden Lion, three Academy Awards, and 11 BAFTAs. He has written 48 screenplays and 10 plays, and directed 44 films, three plays and one opera. His latest movie, Midnight in Paris, will open the Cannes Film Festival on 11 May.
Interviews with Woody Allen
Film legend Woody Allen talks us through his favourite books, from JD Salinger to Elia Kazan.