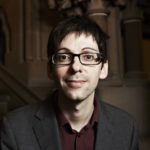 Xavier Aldana Reyes
Xavier Aldana Reyes is Reader in English Literature and Film at Manchester Metropolitan University, and a founding member of the Manchester Centre for Gothic Studies. His books include Gothic Cinema (2020), Spanish Gothic (2017), Horror: A Literary History (editor, 2016), Horror Film and Affect (2016), Digital Horror (co-editor, 2015) and Body Gothic (2014).
Books by Xavier Aldana Reyes
Interviews with Xavier Aldana Reyes
Whether you're scared most by graphic body horror, the uncategorisable, or the blurring of boundaries between supernatural menace and psychological unraveling, this list will have something for you. Reflecting on the complex nature of fear, Xavier Aldana Reyes surveys the best modern horror and explores whether the genre might offer consolation as well as terror.
Books by Xavier Aldana Reyes