"Last night I dreamt I went to Manderley again. It seemed to me I stood by the iron gate leading to the drive, and for a while I could not enter, for the way was barred to me. There was a padlock and a chain upon the gate. I called in my dream to the lodge-keeper, and had no answer, and peering closer through the rusted spokes of the gate I saw that the lodge was uninhabited."

—Rebecca by Daphne du Maurier, opening lines
Rebecca, Daphne du Maurier's novel of a second wife's jealousy of her predecessor—widely accepted to be a modern classic—was an immediate bestseller on first publication and has since been adapted for the screen several times, most famously by Alfred Hitchcock. To mark the Netflix release of a new adaptation, starring Lily James and Kristin Scott Thomas, we spoke to Dr Laura Varnam, lecturer in English literature at University College, Oxford, about what is probably du Maurier's most famous book:
In our interview with you on the best Daphne du Maurier books, you selected some of her lesser-known works like The King's General. But many readers discover du Maurier's writing via what might be her best known book, Rebecca. How do you feel about Rebecca – does it deserve all the acclaim?
Dr Laura Varnam: I am, of course, a big fan of Rebecca and like many of du Maurier's works, it has the extraordinary capacity to change with you as a reader over time. My reading of the novel now, in 2020, is very different to my first reading as a teenager, both as a result of age and experience but also because of our changing times in the world. Like many books with a big reveal moment, it encourages us to reread and reconsider almost the moment that we finish the final page. And du Maurier herself is obsessed with the idea of return in this novel – the return of Rebecca herself, the return to Manderley. It's a novel that is almost impossible to escape from!
Daphne herself could never understand why it captured the reading public's attention so deeply and permanently, though. She once said that when writing a book, she would lose herself 'in the plot as it unfolds' but when it was finished, she would 'lay it aside… finally and forever.' In a rare television interview in 1971, she said that Rebecca happened to have been 'the most popular' of her books but that, in her view, it was not 'the most mature.' In many ways, I think that My Cousin Rachel (1951) is a more sophisticated work on similar themes.
Just as the second Mrs de Winter was haunted by the presence of Rebecca the character, so too du Maurier as an author has been unable to escape the powerful hold that her bestselling novel had on her reputation. Her friend and mentor the Cambridge Professor of English Literature Sir Arthur Quiller-Couch, better known as 'Q', once said that the critics would never forgive her for writing Rebecca and the novel's immediate success did pigeonhole her as a 'popular' writer, who was often dismissed by the more snooty literary critics. Indeed, one condescending contemporary review described Rebecca as a 'lowbrow story with a middlebrow finish'! Rebecca does deserve the acclaim, but it's a book that casts a long shadow over du Maurier's literary reputation. It's the aim of my current book project to show how versatile and gifted she was in a career that spanned half a century and ranged widely across genres and subjects, so this is why I didn't choose Rebecca in my original Five Books interview, even though I do love it!
At what stage in her career did she write Rebecca, and was the book an immediate hit?
Daphne du Maurier was already a popular and bestselling writer by the time Rebecca was published in 1938. Her first novel, The Loving Spirit, was published in 1931, after she honed her craft as a short story writer, and in the intervening years she had written a further four novels—including Jamaica Inn (1936) and a novel inspired by her ancestors The du Mauriers (1937)—plus a biography of her late father, the actor-manager Sir Gerald du Maurier (Gerald: A Portrait, 1934). She had already established herself as a skilled writer who moved across genres with ease and as a consummate writer of place, not only the Cornish landscape of Jamaica Inn and The Loving Spirit, but also cities such as Paris and London. In Rebecca this comes through not only in the unforgettable depiction of Manderley, but also in the scenes in Monte Carlo, featuring the overbearing social climber Mrs Van Hopper. Du Maurier has a sharp eye for class distinctions and she is great on the yearning, folly, and anxieties of youth, which we see in her second novel I'll Never Be Young Again (1932) and which she returns to in her depiction of the young, naive narrator in Rebecca, overwhelmed by the grandeur of Manderley and her new position.
Rebecca was an instant success, both in the UK and the United States. Within just four months, it had already sold 220,000 copies and it was a book club choice on both sides of the Atlantic. A mere fortnight after its release, Daphne's publisher Victor Gollancz, who regularly advertised his books in the press, ran a tongue-in-cheek ad that said 'everyone who has read the book (a rapidly increasing majority) is talking about it to everyone who hasn't (a rapidly diminishing minority)' − so further advertisement was almost unnecessary! Daphne herself did worry about these advertising campaigns. When she published her next novel, Frenchman's Creek, in 1941, Gollancz's distinctive yellow dust jacket and bold lettering announced the new novel as 'by the author of Rebecca, sales in English of which are now about one million'. Her bestselling status did, sadly, often overshadow the quality of her work – which is just as great as her sales figures!
The appeal of Rebecca was, for the most part, reflected in contemporary reviews. One headline declared: 'Romantic triumph: Daphne du Maurier in Brontë mood', and I'll return to this comparison with the Brontës. The Times Literary Supplement looked down on what it felt to be a formulaic and improbable plot but even they grudgingly admitted that du Maurier had a flair for storytelling and that the novel was 'ingenious' and 'exciting'. Almost all reviewers praised the hypnotic quality of the narrative voice, and it is this ability to hook the reader in and never let them go that is part of du Maurier's magic as a writer.
You said that "Rebecca… is often considered a re-writing or response to Jane Eyre". Could you tell us a little more?
From the publication of her first novel The Loving Spirit, Daphne du Maurier was frequently compared to the Brontës and, to some extent, rightly so. The title The Loving Spirit came from one of Emily's poems and you can see the influence of Wuthering Heights in the moors and strong passions of Jamaica Inn. In fact, Daphne had a lifelong scholarly interest in all of the Brontë siblings and she wrote the first serious biography of Branwell in 1960 (which I discussed in my original Five Books interview). But she was not a Victorian novelist and personally I sometimes find that the comparison can lead to an assumption that du Maurier was not a 'modern' writer, which I firmly believe that she was!
That said, a comparison between Rebecca and Jane Eyre is fruitful, for the differences as well as the similarities. Both books channel the Bluebeard fairy tale in which violence against women is the hidden secret in the gothic house. But whereas Bertha Rochester is very much alive—the 'madwoman in the attic' as feminist critics Gilbert and Gubar famously termed her—in du Maurier's version, the first wife returns from the dead, physically when her body is recovered from her own boat (the prophetically-named Je Reviens, 'I will return') and imaginatively in the second Mrs de Winter's narration and in Mrs Danvers's preservation of Rebecca's bedroom as a mausoleum to her lost mistress.
Both Bertha Rochester and Rebecca de Winter have inspired later writers to rehabilitate their literary reputations; Jean Rhys in Wide Sargasso Sea (1966) and Sally Beauman in Rebecca's Tale (2001). But where there are few willing to stand up for Bertha within Jane Eyre itself, in the book Rebecca we are constantly reminded not only of Rebecca's beauty and accomplishments as mistress of Manderley but also, from Mrs Danvers in particular, of her admirably daring and independent spirit. In this, I think, Rebecca channels Jane Eyre herself. Jane might have been plain and socially inferior, just like the second Mrs de Winter, but she was fierce in her defence of herself and her rights. When she refuses to commit bigamy, she tells Mr Rochester in no uncertain terms, 'I am a free human being with an independent will, which I now exert to leave you.' When Mrs Danvers taunts the second Mrs de Winter with her own inadequacy, she says 'no one got the better of her [Rebecca], never, never. She did what she liked, she lived as she liked'. It was only the sea that got the better of her in the end and still her spirit endured.
The other element that both novels share is the ultimate destruction of the house by fire. But where we are confident in our assumption that it is Bertha who burns down Thornfield Hall, in Rebecca the conflagration of Manderley is a far more ambiguous affair. The book ends with Maxim and Mrs de Winter returning to Manderley and seeing the sky 'shot with crimson, like a splash of blood. And the ashes blew towards us with the salt wind from the sea.' Now we know from the opening of the novel that Manderley is no more, that the house is a 'sepulchre', but du Maurier is typically tricksy in leaving the source of the fire to our imagination. Mrs Danvers has disappeared, after receiving a phone call that we assume is from Rebecca's cousin, Jack Favell, whose parting shot to Maxim was that 'the law can get you yet, and so can I, in a different way…'. Alfred Hitchcock's 1940 adaptation explicitly shows Mrs Danvers setting the fire, as an act of revenge for her mistress, and Judith Anderson plays her final moments of madness just brilliantly, as the ceiling of Rebecca's bedroom crashes down on her. But in the novel, she slips away through the woods. One cannot help but wonder if the spirit of Rebecca herself is somewhat at work in that 'splash of blood' in the sky, the colour red having been associated with her throughout the book…
The narrator, the second Mrs de Winter, goes unnamed in Rebecca. Can you tell us what impact this has upon our reading of the book?
This is one of the most striking features of Rebecca and a question that always piques readers' curiosity. In fact, even Agatha Christie wrote to Daphne asking her about the narrator's first name! Du Maurier was initially unable to come up with a name and she said later that it became a 'challenge in technique' to avoid the need to use a first name in the book. Contrary to her later reputation, du Maurier was a stylistically experimental and ambitious writer and this is just the kind of challenge that she enjoyed. But more than that, her fiction thrives on secrets and games with the reader, withholding information until just the right moment, teasing us to put our own dark imaginations in service of the scenarios she conjures, and this is the perfect example.
On the surface, the lack of a first name is entirely fitting for the narrator's depiction of herself as shy, anxious, and lacking all the inner spirit and vitality that characterises Rebecca. And, of course, Rebecca gives her name to the book itself. Her absent presence seems more important than the nameless narrator. But the more I reread the story, the more I think that this is a knowing sleight of hand by du Maurier. Our narrator is not as weak and powerless as she might have us believe. She is, after all, the narrator who is in control of our perspective. It is in her words that Maxim, Mrs Danvers, Manderley, even Rebecca herself come back to life. Daphne split her personality between Rebecca and the narrator but in control of both is Du Maurier the author.
An episode that fascinates me in the novel, and that tells us much about the complexities at work in the narrator's personality, is the scene in the hotel in Monte Carlo when the narrator is hiding in her bedroom while she lets Maxim inform Mrs Van Hopper about their impending marriage. She alights upon the poetry book that Maxim lent her with its inscription in that strong handwriting, 'Max from Rebecca', and suddenly but decisively, she cuts the page out with her nail scissors and tears it into little pieces. But then she realises that those pieces in the wastepaper basket have not obliterated the handwriting – and so the narrator sets them on fire! This is an extraordinarily bold move, given that Maxim is in the next room, and I am always intrigued by this premonition of fire, so early in the novel, given how the story ends. So I would suggest that our narrator is not the shrinking violet that she is so keen to present to the reader…
Is it true that Manderley, the de Winters' country house, is based on a real location?
Manderley's primary inspiration was Menabilly, the Cornish house near Fowey that Daphne had discovered lying neglected in the woods 'like the sleeping beauty of the fairy tale'. Menabilly completely captured her imagination—she fell in love with the house—and when she began writing Rebecca, in the heat of Alexandria, Egypt, where she had joined her husband, Boy Browning, on a military posting, she was desperately homesick for her beloved Cornwall. This intense desire and yearning permeates the novel and, in fact, five years after Rebecca's publication Daphne was able to move into Menabilly, having convinced the house's owners to rent it to her. In 1946 she then published The King's General which features the house in its historical form during the English Civil War. This novel, like Rebecca, also has a female narrator, Honor Harris, and it features a strong female rival in Gartred, the sister of Richard Grenvile, the king's general in the West. I like to think that Rebecca's spirit seeped back into the history of the house that originally inspired it…
But as Daphne explains in her memoir Myself When Young (1977), there was another house that had an enormous impact upon her imagination when she was a child. She visited Milton, near Peterborough, with her family and was immediately astonished and fascinated by the long driveway and the sudden appearance of the imposing house, with its magnificent great hall and portraits. Milton was grander than Menabilly and the two houses fused together in Daphne's mind when she wrote Rebecca, along with the other great Cornish houses that she visited after she had moved to Fowey and made friends with Sir Arthur's daughter, Foy Quiller-Couch, with whom she also famously encountered Jamaica Inn for the first time.
Daphne, sadly, had to move out of Menabilly in 1969 and the house now remains in the hands of the original owners, the Rashleighs, and it is inaccessible to the general public. In some ways this is a shame, as Daphne's works inspire many a literary pilgrimage to Fowey and the surrounding area, not least during the popular Fowey Festival of Arts and Literature. But on the other hand, Manderley is a creature of Daphne's imagination, fed with her deep longings and acute sense of place, and we can always revisit the house in our own imaginings when we reread the novel.
A new adaptation of Rebecca is to be released by Netflix this month. What is your favourite du Maurier adaptation, of those that have come before, and do you think that Hitchcock's famous film can ever be topped?
Hitchcock's Rebecca is certainly one of my favourite adaptations, but I'd have to say that Nicolas Roeg's 1973 film Don't Look Now, based on one of du Maurier's short stories, gets closest to Daphne's own spirit and artistry. The changes that Roeg makes enhance the plot and capture du Maurier's visual style so perfectly. Who can forget the imagery of the red raincoat that is both a symbol of death and a portent of the tragedy yet to come! Du Maurier herself also preferred this of all the adaptations made during her lifetime, writing to Roeg that he 'succeeded admirably' and 'indeed added more depth to unconscious thoughts that might have been my own.' Praise indeed! I wrote an essay on this adaptation for the official Daphne du Maurier website.
Naturally every adaptation from book to film needs to make changes and there is certainly a challenge inherent in translating a novel written in the first person, like Rebecca, into a film. It's difficult to replicate the immersion in the narrator's viewpoint. But I like to think of adaptations as interpretations which offer us an invitation to revisit the original and to ask whether our own reading is reflected or unsettled by what we've seen. It's a way of continuing our own conversation with the original text and I find that very exciting.
Rebecca was snapped up by Hitchcock and producer David O. Selznick immediately and the 1940 adaptation remains a firm favourite with du Maurier fans. From the moment the film opens, with Franz Waxman's haunting score and Joan Fontaine's narration of the famous opening line, 'last night I dreamt…', the viewer is immediately transported to Manderley. But the trouble with this version is that Hitchcock's hands were tied by the Motion Picture Production Code which meant that he had to completely change a crucial element of the story. At the time, you couldn't have the hero of the film get away with murder so Rebecca's death becomes an accident (Maxim strikes her but she then trips and bangs her head on a piece of ship's tackle in the boathouse). Now, this creates a fascinating viewing experience if you already know the original novel, because when Maxim (played by Laurence Olivier) explains to Mrs de Winter what happened to Rebecca, we cannot help but interpret his 'confession' rather cynically! She accidentally banged her head, did she?!
There have been two further adaptations of Rebecca for television– a version in 1979 with Joanna David as Mrs de Winter and Anna Massey as Mrs Danvers and another in 1997 with Joanna David's daughter Emilia Fox as Mrs de Winter and the late Diana Rigg as Mrs Danvers. The latter is such a crucial role in the novel as it is Mrs Danvers who feeds the narrator's already over-active imagination with stories of Rebecca's magnetic personality, encouraging her to believe that Rebecca's 'quick, light footstep' can still be heard in the house. In Hitchcock's adaptation, Judith Anderson played this role magnificently. Her intensity and slightly unhinged quality is hard to match but from the trailer for the Netflix version, I think we will be in good hands with Kristen Scott Thomas!
When the novel celebrated its 80th anniversary of publication in 2018, I wrote about the ways in which it speaks to a 21st-century audience, discussing the power and gender dynamics of Maxim's relationship with both his first and second wives, for example. I am excited to see how the Netflix film will give us a new version of the novel for our modern times but I hope that, above all, it encourages a new generation of readers to discover du Maurier's extraordinary and captivating body of work.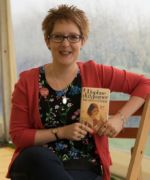 Laura Varnam, Literary Scholar
Recommendations from our site
"The main thing about Rebecca that I find completely compelling is the way that you, the reader, become complicit in a situation which, eventually, turns into a crime." Read more...
Lucy Atkins, Journalist