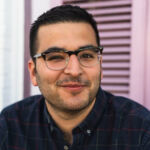 Aaron Aceves
Aaron H. Aceves (he/him) is a bisexual, Mexican-American writer born and raised in East L.A.. He graduated from Harvard College and received his MFA from Columbia University. His fiction has appeared in Epiphany, The Florida Review, and Passages North, among other places. He currently lives in Texas, where he serves as an Early Career Provost Fellow at UT Austin, and his debut young adult novel, This Is Why They Hate Us, was released by Simon & Schuster. It received multiple starred reviews and was named one of the best young adult books of 2022 by Kirkus Reviews.
Interviews with Aaron Aceves
Recently there has been a big push among queer writers to foreground stories of love and joy, says Aaron Aceves, the debut author of a YA novel about longing, lust, and the value of friendship. Here, he selects five of the best LGBTQ+ romance novels with joie de vivre—but which also aren't afraid to engage with a bit of hard reality on the way to a happy ending.