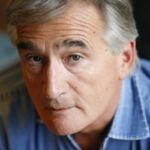 Antony Beevor
Antony Beevor is an English military historian. He is a former officer with the 11th Hussars, who served in England and Germany for five years before resigning his commission. He has published several popular histories on the Second World War and the 20th century in general.
Interviews with Antony Beevor
The popular military historian Antony Beevor recommends some of his own favourite books about the Second World War.
Interviews where books by Antony Beevor were recommended
Glorified by Russia, glossed over by the West, the siege of Leningrad is rarely seen for what it was – a tragic story of tremendous suffering and death. The author of Leningrad, Anna Reid, tells us what really happened there
In World War II human beings were tested over and over again, and that is part of what explains its enduring fascination, says bestselling historian Alex Kershaw. He recommends five books of great storytelling that immerse you in the drama, the heroism and the tragedy of World War II and also have the benefit of being relatively short.
The veteran British journalist and broadcaster on his history reading list. Says Stalingrad was touch and go. Wellington was feared, respected and admired by his men, but he wasn't loved.