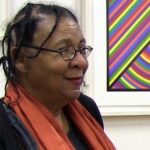 bell hooks
Gloria Jean Watkins (1952 – 2021), had the pen name bell hooks.
"bell hooks is a cultural critic. She is a black feminist writer who came to international prominence in the 1980s and 1990s. She writes on a whole range of topics from the racial politics of Madonna to film criticism. She's written a brilliant essay about the film The Piano. She has even written a beautiful book about love, for example, and relationships. She ranges across the whole wide spectrum of issues from music, films, and cultural production, to pedagogy, teaching and learning, and the experience of gender, and class and race in America. She writes about things that she thinks are important and are the key issues of the day. She writes at all these different levels, but she has a very singular voice. She is a very radical critic of inequalities and divisions in contemporary society, but, at the same time, has an incredible generosity and hopefulness about the potential for things to change." Les Black on the best books on Academia.
Books by bell hooks
"bell hooks is not even her given name. It's a pen name. It's as if the work is more important than the writer. This is a classic book that came out in 1995. It's a collection of essays and it doesn't just talk about rage, but it is foregrounded in the book. She discusses racism, and how we can end racism, but she begins with rage…she acknowledged that's what she was feeling. She gave the reasons for why she was feeling that way. Black folks are constantly victims of racism and the misconception is that they just take it internally with a smile on their faces, but that isn't accurate. She's trying to make sense of this killing rage she felt. She then spends the next chapter defending rage. I had never read anything that attempted that before. She's defending rage, she's rejecting notions that it is pathological in black folks. She's talking about its role, its positive role, how it can fuel action. She also gives a lot of warnings." Read more...
The best books on Anger at Racial Injustice
Myisha Cherry, Philosopher
"bell hooks is an extraordinary writer. I admire not only her ideas, but also the way she writes. She is unusual in that she is a university professor and a very respected world figure in feminist theory and writing, but, at the same time, her books are written in public prose and are read by an extraordinary range of people. She could have been one of the figures in Edward Said's book, Representations of the Intellectual. She is speaking to the issues of the day and has a wide, popular readership…It's really a wonderful account of the possibility that education has to shape and transform lives." Read more...
Les Back, Social Scientist
Interviews where books by bell hooks were recommended
Current UK higher education policies, which treat students as consumers, are not only killing thinking but also likely to lead to a financial crisis. And yet, academia is a beautiful vocation, with the power to transform lives year in, year out. University of London professor, Les Back, picks the best books on academia.
What is love? Can you choose to do it? If love ends, was it really love? The author and academic Skye C Cleary selects five key texts that deal with philosophy of love, whether romantic, erotic, familial or platonic.
In many philosophical and religious traditions, anger is regarded as a useless emotion that's best avoided but it can play a vital role in the fight against injustice. American philosopher Myisha Cherry, author of The Case for Rage, recommends books that shed light on how to be angry productively.