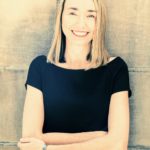 Skye C Cleary
Skye C Cleary is a philosopher, the author of Existentialism and Romantic Love (Palgrave Macmillan, 2015) and the co-editor of How to Live a Good Life (Vintage, 2019). She is the associate director of the Center for New Narratives in Philosophy at Columbia University and also teaches at Barnard College and the City College of New York.
Books by Skye C Cleary
How to Be Authentic (called How to Be You: Simone de Beauvoir and the Art of Authentic Living in the UK edition) is an exploration of French philosopher and feminist Simone de Beauvoir (1908-1986) and her thinking about life and how to live it. It's an existentialist approach, which means enormous freedom but also responsibility. If you haven't read The Second Sex, the book is also useful for understanding Beauvoir's thinking on what it means to be a woman.
The ancient philosophers spent a lot of their time thinking about the best way to live. Modern philosophy is often more esoteric, but in many popular philosophy books coming out now, that ancient tradition is making a comeback. There are modern practitioners embracing Stoicism, Epicureanism, secular Buddhism and more. In How to Live a Good Life: A Guide to Choosing Your Personal Philosophy, philosophers Skye Cleary, Massimo Pigliucci and Dan Kaufman gather together essays by 15 thinkers, with each presenting the philosophy they've chosen to guide their lives.
"The key question I was interested in was: can you choose to love? It turns out the answer is pretty complicated, because when we start digging into that question we quickly slide into a tangled mess of theories about biology, evolution, psychology, myths and stories, and social structures around relationships. I started reading Irving Singer, who wrote an in-depth trilogy about the philosophical history of love. He said that although romantic lovers lose certain freedoms in relationships, the love they acquire compensates. This statement frustrated me because it wasn't clear how much freedom we ought to give up, or how we should even begin to think about love and freedom as an equation.

I stumbled across the existential thinkers and found they dealt specifically with this question, including Max Stirner, Søren Kierkegaard, Friedrich Nietzsche, Jean-Paul Sartre, and Simone de Beauvoir – all of whom I discuss in my book. Now, calling someone an existentialist is fraught with danger, because Beauvoir and Sartre reluctantly accepted the label, and Stirner, Kierkegaard and Nietzsche were retrospectively affiliated with existentialism. Although it's debatable whether they were all 'existentialists,' they all certainly contributed to existential thinking about love and freedom.
There are two main ways we can understand this: 'freedom from', which refers to freedom from oppression, arranged marriages, traditional gender roles, or being slaves to our desires, for example; and then there's 'freedom to', which is the freedom to choose whom you want to be in a relationship with, freedom to marry or not to marry, and so on. The existential idea is that once we free ourselves from all the pressures around us, many of which we might not be fully aware of, then we can be free to create more authentically meaningful relationships. However, this is all easier said than done. As Nietzsche wrote, "invisible threads are the strongest ties."
Skye Cleary, best books on the philosophy of love, Five Books interview, September 3rd, 2018
Interviews with Skye C Cleary
What is love? Can you choose to do it? If love ends, was it really love? The author and academic Skye C Cleary selects five key texts that deal with philosophy of love, whether romantic, erotic, familial or platonic.
Interviews where books by Skye C Cleary were recommended
As the world went into lockdown early in 2020, many of us without frontline jobs and lucky enough not to fall sick with Covid-19 found more time to read than usual. The sudden change to a slower gear also left more room to reflect on the state of the world and our place as humans in it. Sophie Roell, editor of Five Books, takes us through her personal choice of the best nonfiction books of 2020.
From reflections on travel and searching for a personal philosophy to live by, to books on important aspects of democracy and contagious diseases, here's British philosopher Nigel Warburton's 2020 summer reading list. All the books you need to keep you thinking over the summer, whatever it may hold and wherever you may be.