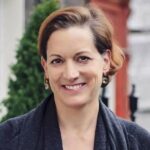 Anne Applebaum
Anne Applebaum is a historian and a staff writer at the Atlantic. She is also a Senior Fellow at the Johns Hopkins School of Advanced International Studies and the Agora Institute, where she co-directs Arena, a program on disinformation and 21st-century propaganda. She specializes in Eastern Europe and Russia. Anne Applebaum's books have won a number of prestigious prizes and feature on many Five Books reading lists.
Interviews with Anne Applebaum
The traumas of the 20th century hit Eastern Europe hard – a region of changing borders, uncertain identity, and shattering of moral norms. The journalist and communism expert selects books that capture the spirit of the age.
Interviews where books by Anne Applebaum were recommended