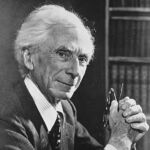 Bertrand Russell
Bertrand Russell (1872-1970) was a British philosopher and logician. His books have been frequently recommended on Five Books and he was awarded the Nobel Prize in Literature in 1950 "in recognition of his varied and significant writings in which he champions humanitarian ideals and freedom of thought." (He also plays a role in this graphic history).
Books by Bertrand Russell
"It was written in 1932 so it's from a different era, when there was still the landed gentry. His basic thesis is that one of the ills of the modern world is the lie that has been sold to us that work is a virtuous and ennobling thing. His argument is that that's a form of social control – keeping people down by keeping them working. There's also the puritan idea of idle hands being the devil's workshop. He makes the counter-suggestion that we ought to be working less, and freeing up more hours to pursue leisure. There are different forms of leisure, of course, some of which is passive and probably not worth striving for. Russell's argument is that if we went to a four-hour day, and rejigged our culture and social institutions accordingly, then mankind – from the top to the bottom of the social scale – would plunge into active, ennobling forms of leisure, and we would all live in a kinder, gentler society." Read more...
Carl Honoré, Broadcaster
"It shows how people have grappled with all kinds of questions relating to knowledge over the centuries going back to Thales and Pythagoras, and then through to John Locke and David Hume. It is fairly modern – although, because it was published in 1945, it doesn't come up to the present day. It is a summary (although in some people's eyes, an unreliable one) of a great deal of philosophical thought; it reviews how people have really grappled in a seemingly very intelligent way with very deep questions." Read more...
The best books on The Emergence of Understanding
Peter Atkins, Scientist
Interviews where books by Bertrand Russell were recommended