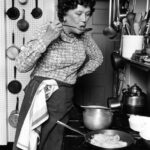 Julia Child
Julia Child was famous for writing easy to use French cookbooks. She became a cookery star of US television in the 1960's.
Books by Julia Child
"Actually, she was my model for instructions and not being afraid to give all the information necessary because a lot of times when I started writing, if you told the whole story that meant the recipe was difficult, whereas really it's difficult if you don't have all the information and you're part way through and you can't get the answers. The way she wrote her puff pastry description was just brilliant. So any time that I look for something French that's where I begin." Read more...
Rose Levy Beranbaum, Cooks & Food Writer
"Well, it was really my introduction to French food. I grew up with some French food in the house and knew a little bit about it and had eaten a certain number of dishes, but I had never made good French food on my own. This was in the early 60s and I just thought this explained to me in such detail about how to cook the food, what the food was. It later became a kind of model for me about how to write a cookbook. It tells you how not to make mistakes. If your Hollandaise sauce curdles this is what you do. It just takes you by the hand." Read more...
Madhur Jaffrey, Cooks & Food Writer
Interviews where books by Julia Child were recommended
The author, chef, and actress Madhur Jaffrey recommends five of her favourite cookbooks.
The bestselling author of The Cake Bible, Rose Levy Beranbaum, explains why English cakes don't rise, how to make the perfect croissant, and how to get holes the size of radishes in your artisan breads