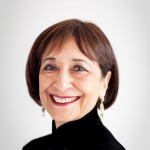 Madhur Jaffrey
Madhur Jaffrey is an award-winning actress and bestselling cookery author. Her first book, An Invitation to Indian Cookery, was published in 1973 and her series for BBC television, Madhur Jaffrey's Indian Cookery, made her a household name. She has appeared in over 20 films, including Merchant Ivory's Heat and Dust, and written over 15 cookery books, including Madhur Jaffrey's Ultimate Curry Bible (2003) and Curry Easy.
Interviews with Madhur Jaffrey
The author, chef, and actress Madhur Jaffrey recommends five of her favourite cookbooks.
Interviews where books by Madhur Jaffrey were recommended
Mary Berry has written over 70 books—but what are the cookbooks she returns to, time and again? Here she shares her top five with us.