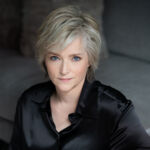 Karin Slaughter
Karin Slaughter is an American crime novelist. She is the author of 20 Sunday Times bestselling novels and more than 40 million copies of her books have been sold worldwide. Based in Atlanta, Georgia, she is also the founder of the nonprofit Save the Libraries project. Her 2018 book, Pieces of Her, was adapted for TV, debuting at #1 on Netflix as an original series in 2022. Her latest book, After That Night, is the 11th book in her Will Trent series, which has also been adapted for television with the first episode airing in 2023.
Interviews with Karin Slaughter
Many of us enjoy thrillers because of the pacy story, but good crime fiction has always been about society, says American novelist Karin Slaughter. She recommends five crime novels that are not only great reads but "pry the scab off the human condition."
Interviews where books by Karin Slaughter were recommended
Looking for a pacy, suspenseful thriller that keeps you racing through the pages? Look no further. Anthony Franze, author and coordinator of the International Thriller Writers' annual awards, talks us through some of the books that made the shortlist for the best thrillers of 2019.