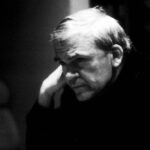 Milan Kundera
Milan Kundera (1929-2023) was a Czech novelist who went into exile in France in 1975. Five Books recommendations include not just his most famous novel, The Unbearable Lightness of Being, but also some of his other works.
Books by Milan Kundera
"This book gets across the heartfelt reality of Stalinist faith. Kundera was a young Stalinist, as were his friends. So he knows what it was like to be on the inside, to have certainty about the rest of the world and to believe that everyone who didn't share that certainty was a fool. To know where things were going and what you wanted from society – that glowing, overwhelming sense that one is young and the world belongs to you. Kundera really gets that sense across, and I think that's incredibly important…Interestingly, in 2008, documents were found that seemed to suggest that Kundera had turned in a spy to the communist authorities. Everyone was shocked. The Americans, the Czechs, everyone – including Kundera himself, who denies it. But we shouldn't have been shocked. We have this delusion that everyone who we think of as resisting communism must have been a nice liberal their whole life. But of course when this allegedly happened, in 1952, Kundera was a Stalinist. So behaving irregularly was completely consistent with his worldview at the time. Everyone has together been wishfully dismissing that from history." Read more...
Timothy Snyder, Historian
"This is more an impressionistic, stream-of-consciousness book. His writing is very mellifluous. I remember devouring it in a single sitting – it's only 132 pages long – and I like the way Kundera tackles big ideas through very readable fiction. Slowness explores the romantic collisions and entanglements of several characters who seem at first unconnected. Some are in the modern world, others are in the 18th century, but weirdly they come together and interact at the end of the novel. The book is also a meditation on speed, technology and slowness, and how these shape our experience of the world, other people and ourselves. Kundera suggests that slowness opens the way to wisdom, memory, sensuality and humanity. A slower world, he seems to be saying, would be a better place. For anyone wanting to delve into the metaphysical underpinnings of the slow revolution, this is the perfect primer." Read more...
Carl Honoré, Broadcaster
"The title, The Unbearable Lightness of Being, comes from the main character's obsession with the fact that all we have is the now, nothing else except the ever-moving now. He wants to know what is happening about our existence in relation to the ephemeral present, which comes and goes so quickly. Since we are stuck in this ever-moving moment, how do the past and future relate to that, and what difference do moral choices make over a lifetime? What is the meaning of our existence? We are stuck in this ever-moving moment, and how does the past relate to that? One meditation in there is where he takes up Nietzsche's theory of the eternal return – an ancient Hindu concept – in which everything that happens continues to happen eternally, an infinite number of times, over and over, like a broken record." Read more...
The best books on Time and Eternity
Carlos Eire, Historian
Interviews where books by Milan Kundera were recommended