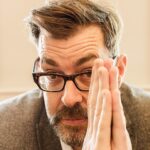 Books by Richard Osman
The Bullet That Missed is the third book in the Thursday Murder Club mystery series by British writer and TV presenter Richard Osman. Featuring four octogenarian sleuths, these books are intended to be funny, and are not about revealing the depressing/real side of crime or indeed of becoming old. Equally, if you're looking for a gritty fast-paced thriller, these are not the books for you. But if you want to have a laugh with some crime thrown in, it's a great way to go. The Bullet That Missed is as good as the first, its observations of the minutiae of everyday life wittily done. The audiobook, narrated by Fiona Shaw, is also charming.
"This is the follow-up to Osman's likeable and funny first book The Thursday Murder Club (see below) which has been a fixture on bestseller lists since its 2020 release. This new murder mystery returns to the sleepy retirement village of Coopers Chase, where our septuagenarian sleuths have returned to the jigsaw room—only to find their peace shattered again when a ghost from the past sends one of their number a letter, many years after his supposed violent end. The Man Who Died Twice looks set to charm all those who loved Osman's earlier book; I've heard the second Thursday Murder Club outing even better than the first." Read more...
Cal Flyn, Journalist
***Shortlisted for the 2021 Edgar Allan Poe Awards***
The Thursday Murder Club is a relentless parody of a classic, cosy murder mystery, written by British TV presenter and comedian Richard Osman. It is laugh-out-loud funny at times, though it's hard to know how well that humour travels beyond UK borders, so it may be worth reading a sample before committing. It's a light and enjoyable read, set in an upscale retirement village, with the upshot that many of the main protagonists are aged 70+, which is oddly empowering.
Interviews where books by Richard Osman were recommended
Looking for a fantastic new thriller to read? We asked Tosca Lee, the bestselling author, to talk us through the International Thriller Writers 2021 shortlist. With their amazing characters, palpable tension, unique voices and incredible plot twists these thrillers achieve what every reader is looking for: a book they can't put down.
Five Books deputy editor Cal Flyn offers a round-up of the notable novels that need to be on your literary radar in Fall 2021, including the hotly anticipated new book from Sally Rooney—set to dominate bestseller lists in the coming weeks—as well as eagerly awaited follow-ups from Richard Osman and Elizabeth Strout, and a return to more traditional fiction from Karl Ove Knausgård.