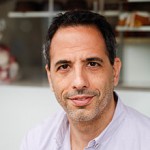 Yotam Ottolenghi
Yotam Ottolenghi is an Israel-born British chef and the patron of the Ottolenghi group, which started in 2002 in Notting Hill in London as a shop/bakery/restaurant and now has many restaurants. His recipes are rooted in Middle Eastern and Mediterranean cuisine but are inspired by ingredients from around the world. "My food very much reflects the sort of ingredients that grow in a very sunny climate, so there are strong flavours and colours, and there's a lot of freshness," Ottolenghi explained in his Five Books interview with us.
Ottolenghi is the bestselling author of a number of excellent cookbooks, particularly notable for their ability to turn vegetables into a highlight of the meal. Ottolenghi's early books—starting with Ottolenghi in 2008—were so exciting in their flavours and ideas that they inspired people to have 'Ottolenghi dinner parties' and spend hours preparing a feast. More recent books, especially the Test Kitchen series, are better suited for those looking for simpler, day-to-day recipe options.
Books by Yotam Ottolenghi
Interviews with Yotam Ottolenghi
Yotam Ottolenghi, the accomplished chef, bestselling author and owner of several high-end London eateries, names the cookbooks he loves the most.
Interviews where books by Yotam Ottolenghi were recommended
Jerusalem is one of the most beautiful cities in the world and a place of longing for three faiths—and yet we know it mostly as a place of strife and conflict. British historian Simon Sebag Montefiore, author of Jerusalem: the Biography, recommends books that capture the historical ups and downs of this ever-changing city, but also its vitality, including its irresistible cuisine.
In this interview two celebrated chefs discuss the best books to help you capture the complex flavours and colours of Persian food. Along the way they describe their favourite Persian treats, including mouth-watering lattice window syrup cakes and rice with saffron and morello cherries.
If nothing else, 2020 has at least given many of us a lot of time to experiment in the kitchen. Here Becky Krystal, lead writer for the Washington Post's Voraciously, recommends cookbooks relevant for a year in which grocery shopping has been complicated and the world has become more interconnected than ever.
Books by Yotam Ottolenghi