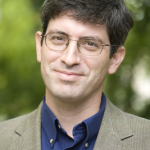 Carl Zimmer
In his books, essays, articles and blog posts, Carl Zimmer reports from the frontiers of biology, where scientists are expanding our understanding of life. In addition to writing books, Zimmer contributes articles to The New York Times as well as magazines including National Geographic, Time, Scientific American, Science and Popular Science. He also writes an award-winning blog, The Loom.
Interviews with Carl Zimmer
The science writer and award-winning blogger Carl Zimmer discusses the strangeness of life, from viruses to manipulative flatworms
Interviews where books by Carl Zimmer were recommended
The author of Autism and Talent and Autism in History puts her subject into historical context and tells us why studying the development of the mind continues to fascinate her
Biology professor—and Catholic—Kenneth Miller tells us what we should read to understand the battle being fought between scientists and creationists.
It's a difficult task: to identify the very best nonfiction books of the year. But the Baillie Gifford Prize aims to do just that. The chair of the prize's 2018 judging panel Fiammetta Rocco talks to us about the six fascinating titles that made the shortlist.