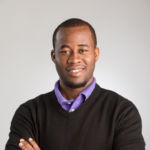 Chigozie Obioma
Chigozie Obioma is an Assistant Professor of literature and creative writing at the University of Nebraska-Lincoln. His first novel, The Fishermen, won the FT/OppenheimerFunds Emerging Voices Award and the 2016 NAACP Image Award for outstanding literary debut, it was shortlisted for the 2015 Man Booker Prize, the Edinburgh Festival First Book Award, and The Guardian First Book Award. His second book The Orchestra of Minorities has been shortlisted for the 2019 Booker Prize.
He has spoken to Five Books about his writing and recommended books on Boyhood and Growing up.
Books by Chigozie Obioma
"The wonder of this book is that it takes this animating spirit guardian narrator and makes it seem completely natural. Obioma inducts you into this culture of this story with this heart-rending, beautiful hero and his quest and makes it completely immersive." Read more...
Interviews with Chigozie Obioma
The author chooses his top five books on boyhood and growing up, major themes of his Booker-nominated debut The Fishermen.
Interviews where books by Chigozie Obioma were recommended
Each year, a panel of esteemed judges reads over 100 novels to determine which titles will vie for the award of the Booker Prize for Fiction. Peter Florence, chair of the 2019 judges and founder of the famous Hay Festival, tells us why the books on this year's shortlist are gripping, enthralling must-reads.