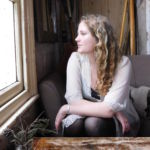 Daisy Johnson
Daisy Johnson was born in 1990. Her debut novel, Everything Under, has been shortlisted for the Man Booker Prize 2018. She was the winner of the AM Heath Prize and the Harper's Bazaar short story prize. She has been longlisted for the Sunday Times Short Story Prize and the New Angle Prize. Her debut short story collection, Fen, was the winner of the Edge Hill Prize. She currently lives in Oxford, UK.
Books by Daisy Johnson
"Daisy Johnson became the youngest ever author to be shortlisted for the Booker Prize with her debut Everything Under. Her second novel is about a pair of uncannily close teenage siblings who move to the north of England after an incident at their previous high school in Oxford. Eerie and oppressive." Read more...
Editors' Picks: Notable Novels of Fall 2020
Cal Flyn, Journalist
"Johnson's language is beautiful. It evokes a world that's extremely unfamiliar, but makes it feel like a natural world. It's incredibly well done." Read more...
Kwame Anthony Appiah, Philosopher
Interviews with Daisy Johnson
Daisy Johnson—short story writer, novelist, and the youngest author to be shortlisted for the 2018 Man Booker Prize—chooses the five books that most inspired her novel Everything Under and shares some of her writing rituals and philosophy.
Interviews where books by Daisy Johnson were recommended
Looking for the best novels of the year? Kwame Anthony Appiah, professor of philosophy at New York University and chair of the 2018 Man Booker Prize for fiction, gives an in-depth breakdown of the six books that made this year's shortlist, and reflects on why the novel as a form is stronger than ever.
After coronavirus-induced chaos threw publishing schedules out of whack earlier this year, fall 2020 is shaping up to be a bumper book season. But with hundreds of new titles flooding onto the shelves, it can be hard to identify those that are most deserving of your time. Here, Five Books deputy editor Cal Flyn highlights some of the most anticipated new novels of the coming weeks.