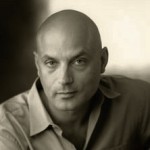 Daniel Mendelsohn
Daniel Mendelsohn is an American author, critic and translator. His internationally bestselling book The Lost won the National Book Critics Circle Award among other honours, and has been published in over 15 languages. In 2008 Mendelsohn was named by The Economist as one of the best critics writing in English. He teaches at Bard College
Books by Daniel Mendelsohn
"Daniel Mendelsohn is a teacher of classics at Bard College on the East coast of the US and is a great fan of Homer's Odyssey. He's teaching a class on the Odyssey and his 82-year-old father decides to join the class with all these 18- and 19-year-olds." Read more...
Interviews with Daniel Mendelsohn
Greek myths were themselves elastic so there is no reason the classics of Roman and Greek literature shouldn't be updated, says classicist Daniel Mendelsohn. He talks us through some of his favourites.
Interviews where books by Daniel Mendelsohn were recommended
It's hard to choose the very best nonfiction books of 2017, but the Baillie Gifford Prize aims to do just that. The chair of this year's judging panel, Peter Bazalgette, talks us through the six fabulous books that made the shortlist.
Books by Daniel Mendelsohn