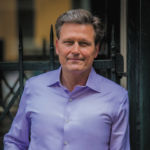 David Baldacci
David Baldacci is one of the world's bestselling and favourite thriller writers. With over 130 million copies in print, his books are published in over eighty territories and forty-five languages, and have been adapted for both feature-film and television. David is also the co-founder, along with his wife, of the Wish You Well Foundation®, a non-profit organization dedicated to supporting literacy efforts across the US.
Interviews with David Baldacci
The best mystery books are completely unputdownable and addictive, the entertainment they provide more portable than watching TV and so much more satisfying than looking at your phone. Bestselling author David Baldacci, one of the masters of the genre and a passionate advocate for literacy and reading, talks us through some of the best mystery books ever written—as well as the contemporary authors he most admires.
Interviews where books by David Baldacci were recommended
Every year, the International Thriller Writers awards highlight the best new thrillers of the previous year. Anthony Franze, administrator of the awards and an acclaimed thriller author in his own right, talks us through their 2020 shortlist for the best new thriller published in hardback.