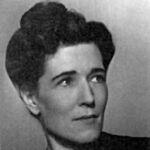 Georgette Heyer
Georgette Heyer (August 1902 – July 1974) was an English novelist writing in both the Regency romance and detective fiction genres.
"Heyer is better known today for her historical and romantic novels, but starting in 1932 she published twelve detective novels that really deserve to be more widely read." Caroline Cramption in the best classic Christmas mysteries.
Books by Georgette Heyer
Georgette Heyer's The Grand Sophy is a must-read book for anyone who liked Bridgerton.
"This book is set during the siege of Badajoz. It is the retelling of a true story of Harry Smith, who was an officer at Badajoz, who saved a 14-year-old girl and eventually married her. In fact, in later life he becomes the governor of the Cape Colony and he founds the town of Ladysmith and names it for his wife. It is a sort of nostalgia for me. It is what I grew up with, under the bedclothes in the middle of the night." Read more...
The best books on The Regency Period
Stella Tillyard, Historian
Interviews where books by Georgette Heyer were recommended
Bestselling novelist and historian Stella Tillyard says the 19th century Regency era was, apart from the duels and empire-line dresses, much like our own – a time of war and economic uncertainty.
Looking for a cosy mystery to settle down with in front of the fire this holiday season? Look no further. We asked Caroline Crampton, creator and host of the Shedunnit podcast, to recommend her favourite classic mystery books set during the Christmas period.