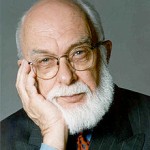 James Randi
James Randi (1928–2020) was a magician and escape artist, who became internationally renowned as an investigator and demystifier of paranormal and pseudoscientific claims. He received numerous awards and recognitions, including a Fellowship from the John D. and Catherine T. MacArthur Foundation in 1986 for his work in investigating claims of the supernatural, occult, and paranormal powers—in particular his exposures of evangelist-healers and of TV 'psychics' such as Uri Geller.
Interviews with James Randi
Former magician and internationally renowned debunker of paranormal claims James Randi sharpens his knives against proponents of flim-flam, pseudoscience and the so-called paranormal – and tells us where the creator of Sherlock Holmes went badly wrong. He selects the best books on scepticism for Five Books.
Interviews where books by James Randi were recommended
Psychology professor Richard Wiseman explains why mediums, spoon bending and near-death and out-of-body experiences are all baloney.