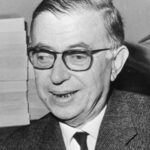 Jean-Paul Sartre
Jean-Paul Sartre was a French philosopher. He become known as a great existentialist thinker alongside his lifelong friend and lover Simone de Beauvoir.
"Sartre famously believed in what he called 'radical freedom', which is the view that none of your character traits or values or projects, no part of your outlook carries any weight or inertia of its own: it's only there because you continue to endorse and underwrite it, and you can just change that." Jonathan Webber discussing classic books dealing with existentialist themes.
Tête-á-Tête is a dual biography that focuses on Jean-Paul Sartre and Simone de Beauvoir, exploring the practical application of their philosophy.
Books by Jean-Paul Sartre
Interviews where books by Jean-Paul Sartre were recommended
Books by Jean-Paul Sartre