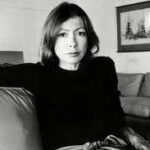 Joan Didion
Joan Didion was a cultural commentator, a memoirist and an essayist. Her books have been recommended many times on Five Books.
The White Album is one of her most recommended works.
"I feel that Joan Didion is the patron saint of a maelstrom of culture and environment of a particular time." Dan Richards.
Interviews where books by Joan Didion were recommended