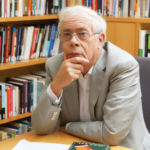 John Kay
John Kay is a British economist. He has been a Fellow of St John's College, Oxford since 1970 and has held chairs at London Business School, the University of Oxford, and the London School of Economics.
Interviews with John Kay
Investing can seem scary if you've never done it before but it is, in fact, fairly straightforward. Economist John Kay recommends some investing books for beginners.
Most people completing degrees in economics won't have read these books, but they should, says British economist John Kay.
Interviews where books by John Kay were recommended
The former international cricketer, author of a book on luck, and England's national selector tells us about the chance happenings that have helped shape his life, for better or worse
Nearly every aspect of our life is determined by economics, and yet it's easy to go through life understanding very little about it. Author and columnist Tim Harford (aka the 'Undercover Economist') introduces the best books to get you thinking like an economist.
We need to build an entirely new market system, not just patch up the old one, says economics commentator Anatole Kaletsky. He picks the best books to help us think about what form a new capitalism might take.