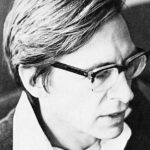 John Rawls
John Rawls (1921-2002) was an American political philosopher, best known for his 1971 book, A Theory of Justice. In 1999, he was awarded a National Humanities Medal by Bill Clinton as "one of the most influential political philosophers of the 20th century." Rawls taught for nearly 40 years at Harvard, including a class with the philosopher Robert Nozick, who critiqued Rawls's work from a right-wing, libertarian position. Both played an important role in the resurgence of political philosophy in the 1970s.
Books by John Rawls
"Rawls wants you to think about how you would design society if you didn't know what place you'd play in it. Imagine you didn't know whether you were going to be a man or a woman, you didn't know whether you were going to be disabled or able-bodied — Rawls didn't use these examples but we can extend his method — if you didn't know whether you were going to be white or black, strong or weak, have film star good looks or be ugly. If you didn't know any of those things about yourself, how would you like society to be? At one point Rawls says, 'Imagine your place in society is going to be determined by your enemy.' How would you like your society to be if your enemy was going to assign you your place in it? You'd think, 'Well I wouldn't want any really bad positions. I'd want to make sure the worst thing that can happen to me is as good as it could be.' That is Rawls's big idea — that if you were to design society not knowing your place in it, you'd want to make sure the worst positions in society were as good as they could be, therefore — and it's a big therefore which needs lots of intermediate steps — a just society is one that makes the worst off as well off as possible…It's 500 or 600 pages of closely printed text…It's a strange book. For a beginner in philosophy, it's hard to see what all the fuss is about. Rawls is not a fantastically stylish writer in an ordinary sense although, in another sense, he is. He's not a flashy writer, he doesn't use examples, he doesn't take you through things step-by-step. He's a very dense writer. You can read a page and not think very much of it and then ten years later come back to it, having thought about the issue yourself, and see Rawls has completely understood the issue, set out all the possibilities, and shown why only one of them is right. Reading through the first time, without knowing the background, you can't possibly know all of what is going on. I heard Hilary Putnam once say that you can tell a work of philosophical genius because 'the smarter you get, the smarter it gets.' I think this is exactly what happens with Rawls." Read more...
The best books on Political Philosophy
Jonathan Wolff, Philosopher
"John Rawls's influence is so widespread and profound that as soon as he embarked upon this topic, though it only occupied a few pages in The Law of Peoples, it suddenly, for many philosophers, legitimised humans rights as a subject of philosophical concern. It was now acceptable to work on human rights, in fact, in some ways, it maybe even became compulsory to work on human rights because John Rawls had worked in this area…Rawls was very exercised by the problem of ethnocentrism — of whether the rights we affirm as human rights are just parochial Western ideals unjustifiably imposed on other cultures. " Read more...
The best books on Human Rights
John Tasioulas, Philosopher
Interviews where books by John Rawls were recommended
What are human rights? Are they reducible to the rights enshrined in law or do they somehow objectively exist? Philosopher John Tasioulas picks the best five books on human rights.
World Bank economist and author of The Haves and the Have-Nots: A Short and Idiosyncratic History of Global Inequality discusses global economic inequality and says internal issues of inequality breed aggressive foreign policy
British philosopher Jonathan Wolff chooses five books by thinkers who have shaped the field of political philosophy. He explores the experiences that influenced each writer, saying 'it's very rare for philosophers to say very much about their history and what brought them to the views they have'.