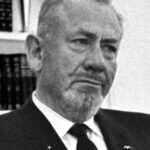 John Steinbeck
John Steinbeck is one of the greats of American literature. His most famous novel, The Grapes of Wrath, was published in 1939 and won the Pulitzer prize in 1940. In 1962, Steinbeck was awarded the Nobel Prize for Literature.
Books by John Steinbeck
"East of Eden is set in Salinas, California—like so much of Steinbeck's fiction—at the start of the 20th century. It's a book with a number of narratives in it, starting off with Samuel Hamilton and his wife Lisa, who raise nine children on a piece of very unprepossessing land in Salinas. Then Adam Trask, a wealthy stranger, purchases a nearby ranch. The main brother narrative within the story is that of Adam and Charles Trask…It's constantly referring back to the Cain and Abel story. The relationship between Charles and Adam Trask is very murderous." Read more...
Tim Lott, Novelist
"This was first published in 1939 while the US was still grappling with the Depression, and what is brilliant about it is that it reveals that economic problems can't just be dealt with through some wave of the free-market magic wand. It's a very harrowing read…His sense of people finding themselves hugely disadvantaged is something that has a modern-day connotation – the whole debate about immigration today is tied up with this. In both cases it's about migrant labour. In The Grapes of Wrath it's migrant labour from within the US, and it's those people who are often the most vulnerable. This is the human aspect of that story, and I think that Steinbeck summarised much of what happened in the Great Depression far better than many economists did, because he really dealt with the true losses that came through for people who just happened to be down on their luck." Read more...
The best books on Globalisation
Stephen D King, Economist
"I had no idea Steinbeck was interested in science. I thought he was a novelist of human rights and the American working class. This book is the log of a journey he made with a scientist he befriended while he was living in Monterey in southern California. They go on this boys' trip, hiring a retired sardine fishing boat for nine weeks and going to collect invertebrates – crabs, lobsters, snails. It's about amateur enthusiasm for the natural world and Steinbeck is a truly great science writer. He conveys a boyish enthusiasm for nature but some truly grown-up observations about man's place in it – a real prescience for an environmental movement that hadn't arrived when this book was written in 1941." Read more...
The best books on Being Inspired by Science
Tom Clarke, Journalist
Interviews where books by John Steinbeck were recommended