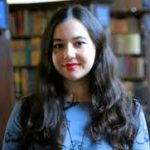 Books by Kiran Millwood Hargrave
"I was talking about a golden age of children's literature and the author of this book, Kiran Millwood Hargrave, is up there. She started off as a poet. She writes books that feel like they've been around forever, and she's only in her mid-20s. So she's precociously brilliant. Her books are objects of excellence." Read more...
Zoe Greaves, Children's Author
Interviews with Kiran Millwood Hargrave
Books like Goodnight Stories for Rebel Girls popularise the many different ways women and girls can be strong, and as strong as they need to be. Award-winning children's author, Kiran Millwood Hargrave, talks us through some of her favourite strong female characters in children's fiction.
Interviews where books by Kiran Millwood Hargrave were recommended
It's a golden age for books for 8-12 year old children—aka 'Tweens.' Our children's editor, Zoe Greaves, picks some of the year's best.
Rachel Hickman, co-founder of Chicken House Publishing and author of One Silver Summer selects books with wild settings that have appeal to older children. She discusses how a strong use of nature adds drama and meaning to a narrative, and the way that setting can become another character in a story entirely.
From World War I to a book with a hint of Hitchhiker's Guide to the Galaxy, Five Books children's editor Zoe Greaves nominates her favourite children's fiction of 2018.