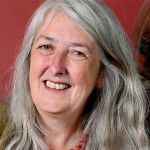 Mary Beard
Mary Beard is Professor of Classics at the University of Cambridge. She is the Classics editor of the Times Literary Supplement and the author of the blog, A Don's Life, which appears on The TLS website as a regular column. Her frequent media appearances and sometimes controversial public statements have led to her being described as "Britain's best-known classicist".
Interviews with Mary Beard
Mary Beard, Professor of Classics at the University of Cambridge, talks us through the books that have had the deepest impact on her thinking about the ancient world and explains why studying Classics is absolutely relevant to modern life.
Interviews where books by Mary Beard were recommended
How accurate is what we think we know about the Romans? Tom Holland, the author of Rubicon, tells us about the exercise of power, the staging of ceremony and the influence of religion in ancient Rome.
Caesar, Cicero, Achilles, Socrates, Plato: millennia later, we still talk about them. Olly Murphy, classics teacher at Wycombe Abbey, one of England's top girls' schools, recommends books and explains why classics remains one of the most exciting subjects for teenagers to study.