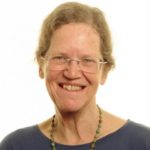 Mary Fulbrook
Mary Fulbrook is professor of German history at UCL and a former dean of its Faculty of Social and Historical Sciences. Her book, Reckonings: Legacies of Nazi Persecution and the Quest for Justice, won the 2019 Wolfson History Prize.
Interviews with Mary Fulbrook
Why were so few of the Nazis involved in running Auschwitz brought to justice? Why did some Germans during the Holocaust risk death to hide Jewish people from Nazi persecution, while others were passive bystanders? Historian Mary Fulbrook—author of Reckonings, which won the 2019 Wolfson History Prize—recommends essential reading for understanding Auschwitz and its aftermath.
Interviews where books by Mary Fulbrook were recommended
In the 20th century, Germany suffered defeat in two world wars and withstood two kinds of dictatorship. Yet today it is Europe's strongest economy. Hester Vaizey, fellow of Clare College, Cambridge, and author of Born in the GDR, selects five brilliant books on a tumultuous century.
Every year the Wolfson History Prize sets out to pick the very best history books written in the past year. Historian and Wolfson prize judge, Diarmaid MacCulloch, talks us through the wonderful books that made the 2019 shortlist: history books that are both great reads and serious scholarship.