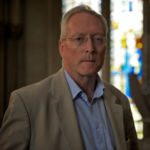 Books by Diarmaid MacCulloch
***Winner of the 2010 Cundill History Prize***
"It is a history of the whole of Christianity, but he has a wonderful subtitle: A History of Christianity: The First Three Thousand Years. It takes a little bit of thinking about because you think, 'Hang on, surely he means two thousand years?' He doesn't, of course, because he refers back to the Old Testament, and the history of Christianity before Christ. It's a hugely ambitious book, but it's just wonderfully told, and it's full of such variety and colour, but also a tremendous amount of sympathy. He's a very erudite, cultured writer, and I enjoyed this book very much." Read more...
The best books on English Church Music
Interviews with Diarmaid MacCulloch
Every year the Wolfson History Prize seeks out books that combine careful research with good writing, aimed at the general reader. Here, Diarmaid MacCulloch, historian and chair of the judges, talks us through the outstanding history books that made the 2021 shortlist, and why, in his view, they're all must-reads.
Every year the Wolfson History Prize sets out to pick the very best history books written in the past year. Historian and Wolfson prize judge, Diarmaid MacCulloch, talks us through the wonderful books that made the 2019 shortlist: history books that are both great reads and serious scholarship.
How can one get to grips with a subject as huge as the history of Christianity, a 2000 year-old religion with adherents in every corner of the globe? The popular and distinguished Oxford historian, Diarmaid MacCulloch, recommends books that will help you make a start.
Interviews where books by Diarmaid MacCulloch were recommended
Books by Diarmaid MacCulloch