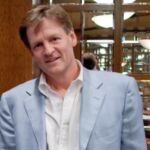 Michael Lewis
Michael Lewis is an American writer of nonfiction, especially well-known for writing about finance in a way that is not only accessible to the layperson, but entertaining and in some cases even gripping. Several of his books have been turned into movies. His first book, Liar's Poker, is a very funny account of how, after graduating from university, he worked at Salomon Brothers in the 1980s, in the heyday of bond trading.
Books by Michael Lewis
"Moneyball was published right before I wrote Mindset and it showed that the fixed mindset was alive and well in the world of sports. You would think that the relationship between training and skill would be utterly obvious in sports, but apparently it isn't. Many of the baseball scouts described in the book really thought they could look at superficial physical features of baseball players and know who had the potential to be a superstar. It's the sports version of craniometry." Read more...
The best books on Mindset and Success
Carol Dweck, Psychologist
"What Michael Lewis points out very forcefully is that they were deliberately created by Wall Street banks in order to produce non-transparent securities that could not be adequately evaluated by the rating agencies, which then could be sold to less sophisticated investors, who would buy the idea that this junk debt actually had triple A ratings. So what this book does quite brilliantly is show that there was actually a high degree of intentionality in creating the crisis. " Read more...
Francis Fukuyama recommends the best books on the The Financial Crisis
Francis Fukuyama, Political Scientist
Interviews where books by Michael Lewis were recommended