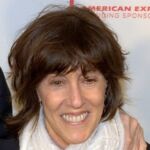 Nora Ephron
Nora Ephron (1941-2012) was an American journalist, writer, and filmmaker. She wrote and directed a number of films including When Harry Met Sally, Silkwood, and Sleepless in Seattle. Ephron's off-screen writing is not as widely known, but certainly should be. Ephron wrote one novel, Heartburn, as well as collections of memoir-style essays, such as I Feel Bad About My Neck. Being funny did not prevent her from approaching difficult topics; Heartburn has been mentioned in interviews here for 'The Best Books on Coping With Failure' and 'The Best Books on Depression'. Nora Ephron passed away from cancer in 2012.
Books by Nora Ephron
Nora Ephron is known generally for her work in film, writing and directing films such as When Harry Met Sally, Sleepless in Seattle, and Julie and Julia, but Heartburn, her only novel, is just as good. It follows Rachel, a heavily-pregnant cookbook author, who discovers her husband is in love with another woman. Ephron carefully balances humour, sadness, and, very importantly, food. Heartburn has various references to food, and an especially good recipe for a vinaigrette. The book was adapted for film starring Meryl Streep and Jack Nicholson.
Nora Ephron shines in this collection of essays. She writes about parenting, getting older, and, as the title itself suggests, being a woman, including a chapter solely focused on her handbag, 'I Hate My Purse'. A must-read if you are a fan of Nora Ephron's work.
I Remember Nothing: And Other Reflections is a collection of memoir-style essays, published after Ephron's collection, I Feel Bad About My Neck. It is equally as funny and perceptive. Written during her battle with cancer, it is not quite as light-hearted as I Feel Bad About My Neck, with particularly poignant final essays: 'What I Won't Miss' and 'What I Will Miss'. What we definitely miss is Ephron's wit and humour.
Interviews where books by Nora Ephron were recommended
Elizabeth Day, author of How to Fail: Everything I've Ever Learnt from Things Going Wrong, explains how the road to success truly is paved with failure—and why we must learn to deal with it better.
Writing about her life in memoirs and a newspaper column allowed the author Bryony Gordon to "join the dots" to see the true face of her own mental illness. Here, she chooses five books to help with depression, books in which she has found solace and a sense of community among those who suffer from depression.