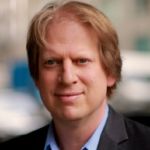 Paul Bloom
Paul Bloom is the Brooks & Suzanne Ragen Professor of Psychology & Cognitive Science at Yale University. He is the author of Against Empathy: The Case for Rational Compassion, Just Babies: The Origins of Good and Evil, and How Pleasure Works: The New Science of Why We Like What We Like. In 2017, he received the Klaus J. Jacobs Research Prize for his investigations into how children develop a sense of morality.
Books by Paul Bloom
The Sweet Spot is by Yale psychologist Paul Bloom, author of How Pleasure Works. It's about happiness in the broadest sense (what might be called 'eudaimonia') and the part pain and suffering play in it. Bloom is constantly doing experiments and reading about experiments that others are doing on issues of happiness, morality, pleasure, pain etc. and the book is full of these. He then throws in quotes and views from literature—Shakespeare, the Epic of Gilgamesh, Brave New World), songs, Twitter. Even the acknowledgements are funny: "Daniel Gilbert deserves special mention for nearly persuading me that the whole idea of this book is deeply confused. (He did this once I had finished writing it—thanks, Dan!)"
Interviews with Paul Bloom
How do evil-doers justify their behaviour? A common view of evil sees dehumanisation as fundamental. Yale psychologist Paul Bloom argues, however, that the picture may not be so simple. The most callous acts of cruelty and evil involve recognising the human feelings of the victim, their ability to feel shame and humiliation.
Interviews where books by Paul Bloom were recommended
Putting people and things into categories is something we all do. It's a useful shortcut but reveals biases. And it plays a role in everything from ethnic violence to childhood development, as psychologist Susan Gelman explains.