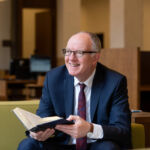 Richard Ovenden
Richard Ovenden is the 25th Bodley's Librarian, the senior executive position of the Bodleian Libraries, University of Oxford. Previously, he held positions at Durham University Library, the House of Lords Library, the National Library of Scotland, and the University of Edinburgh. He moved to the Bodleian Libraries in 2003 as Keeper of Special Collections, becoming Deputy Librarian in 2011, and Librarian in 2014. He is a Fellow of the Society of Antiquaries, the Royal Society of Arts, and a Member of the American Philosophical Society.
Books by Richard Ovenden
"Librarians can often be treated rather as second class citizens by historians because they're the people who often seem to be stopping you getting the books while you're drumming your fingers on the desk, waiting for them to arrive. But what Richard does is to take the experience of being a librarian, and the most senior sort of librarian you can get, and use that as part of the fabric of the book." Read more...
The Best History Books: The 2021 Wolfson Prize Shortlist
Diarmaid MacCulloch, Theologians & Historians of Religion
Interviews with Richard Ovenden
Knowledge is power and nowhere has it been better preserved down the millennia than in libraries. Here Richard Ovenden, author of Burning the Books and the librarian in charge of Oxford University's Bodleian Libraries, talks us through books that shed light on what libraries are and what they do, and why they remain absolutely vital in our digital age.
Interviews where books by Richard Ovenden were recommended
Every year the Wolfson History Prize seeks out books that combine careful research with good writing, aimed at the general reader. Here, Diarmaid MacCulloch, historian and chair of the judges, talks us through the outstanding history books that made the 2021 shortlist, and why, in his view, they're all must-reads.