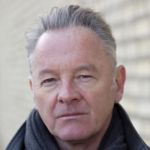 Robin Robertson
Robin Robertson is from the north-east coast of Scotland. He has published six books of poetry and received a number of accolades, including the Petrarca-Preis, the E.M. Forster Award, the Roehampton Poetry Prize, and all three Forward Prizes. His selected poems, Sailing the Forest, came out in 2014.
Books by Robin Robertson
***Winner of the 2019 Walter Scott Prize for Historical Fiction***
Written in verse, The Long Take by Scottish poet Robin Robertson is mostly set in post-war Los Angeles. It tracks a Canadian veteran of D-Day who has flashbacks to World War II and is suffering from PTSD. Though it did not ultimately win Britain's top fiction prize, The Long Take was shortlisted for the Booker Prize and is as beautifully written as you would expect a novel written by a poet to be.
Interviews with Robin Robertson
"That's what writing is: a struggle with oneself." Scottish poet Robin Robertson—author of the verse novel The Long Take, shortlisted for the 2018 Man Booker Prize—lists the five works that have most influenced his writing, from Ulysses to Heaney.
Interviews where books by Robin Robertson were recommended
The best historical novels are those so immersive and natural in tone that their period setting is a 'by-the-way,' says Katharine Grant, the novelist and judge for the Walter Scott Prize for historical fiction. Here she discusses the six brilliant books that made the 2019 shortlist.
Looking for the best novels of the year? Kwame Anthony Appiah, professor of philosophy at New York University and chair of the 2018 Man Booker Prize for fiction, gives an in-depth breakdown of the six books that made this year's shortlist, and reflects on why the novel as a form is stronger than ever.