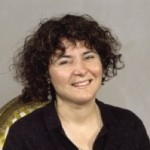 Rosamund Bartlett
Rosamund Bartlett is an author, translator and scholar. Her books  include biographies of  Tolstoy and Chekhov, and a study of Wagner's influence on Russian thought. As a translator she has translated Anna Karenina for Oxford World's Classics and published the first unexpurgated edition of Chekhov's letters, as well as two anthologies of Chekhov's short stories. In 2010 she was awarded the Chekhov 150th Anniversary Medal by the Russian Ministry of Culture in recognition of her educational and charitable work.
Books by Rosamund Bartlett
Interviews with Rosamund Bartlett
In Russia, it's often fallen to writers to challenge conventions and speak the truth, says the translator and biographer Rosamund Bartlett. She makes a personal selection of some of the most exhilarating Russian short fiction.
Interviews where books by Rosamund Bartlett were recommended
The questions of moral philosophy are not always best answered by philosophy books, says leading moral philosopher, Jonathan Glover. He explores questions of how we should live and by what values in books spanning across multiple genres.
The respected author in an intimate discussion about his personal views on autism, prompted by his relationship with his own autistic son. Discusses books that reflect the values of empathy and authenticity
Research shows that middle-aged sex is the best of people's lives, says journalist and author Kate Figes. She picks the best books on sex and marriage.
Books by Rosamund Bartlett