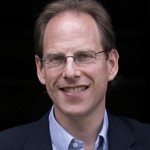 Simon Baron-Cohen
Simon Baron-Cohen is professor of developmental psychopathology at Cambridge University, and director of the university's autism research centre. He is best known for his work on autism, including his early theory that autism involves degrees of "mind-blindness" and his later theory that autism is an extreme form of the "male brain". His latest book, Zero Degrees of Empathy, examines the role of empathy or a lack of it in various medical conditions, and in acts of cruelty
Books by Simon Baron-Cohen
Interviews with Simon Baron-Cohen
The head of the Autism Research Centre at Cambridge University tells us about myths surrounding autism and Asperger's, and what inspired his own research into the subject
Autism expert Simon Baron Cohen tells us about the links between empathy and language, and says our acts of cruelty to one another have at their root a failure to empathise.
Interviews where books by Simon Baron-Cohen were recommended
The differences between men and women are innate, argues the evolutionary psychologist, and men's relative success in the workplace a reflection of desire rather than discrimination.
The child development expert Sue Palmer explains why modern life is making boys more sad, isolated and materialistic.
Books by Simon Baron-Cohen