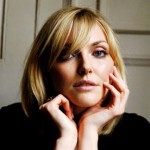 Sophie Dahl
Sophie Dahl began her career as a model. Her first book, a novella, The Man with the Dancing Eyes, became a UK bestseller. She is a regular contributor to both the US and UK editions of Vogue and Waitrose Food Illustrated magazine. Her latest book, Miss Dahl's Voluptuous Delights, was accompanied by a BBC2 cooking show, The Delicious Miss Dahl.
Books by Sophie Dahl
The full-length debut by the granddaughter of Roald Dahl and Patricia Neal centers on a dreamy, romantic English woman who hasn't quite escaped the thrall of her fabulous mother, Marina.
Model Sophie Dahl (a granddaughter of Roald Dahl) has concocted a frothy romantic fantasy about a young woman-bookish, beautiful and rich-who meets and temporarily loses the man of her dreams. Pierre, the heroine of the picture book The Man with the Dancing Eyes: A Fairytale for Grownups, lives on a houseboat in London and works in a used bookstore.
Food is meant to be enjoyed, and Sophie Dahl would have it no other way. Growing up in a family of true food lovers, she began cooking at a young age and never looked back. Miss Dahl's Voluptuous Delights presents nearly one hundred of her tried-and-true recipes, organized around the four seasons and using the freshest ingredients available. Accented with her stories about how she came to know these foods and why she loves them, Miss Dahl's Voluptuous Delights provides a complete picture of what a meal should provide. From lemon-scented summer stews, to crisply burnished pies, to salads and soups for breezy lunches, to decadent desserts, Sophie Dahl cooks food that is indulgent, delicious, and wholesome.
Interviews with Sophie Dahl
The author and food writer talks about honey pancakes, mushy peas, drop scones, choux pastry, baked onions and Winnie the Pooh. Perfect lunch-break reading (as long as you're having a good lunch)