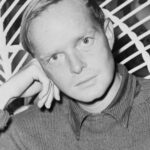 Truman Capote
Truman Capote is probably most well know for his classic, true crime genre-defining book In Cold Blood. "It took him six years to finish it because he had to wait for the court case and the final verdict which was the two perpetrators being executed."
Books by Truman Capote
"It chilled my blood. No pun intended . . . In some of my books, I've taken to heart that if you turn right instead of left, either nothing will happen to you, or something really bad will happen to you just because of a seemingly random confluence of events. I learned that lesson vividly from In Cold Blood." Read more...
David Baldacci, Novelist
"I like the range of the collection, and I find it a useful thing to keep with me and refer to. His essay about Marilyn Monroe is very short and touching. And there's a beautiful piece called "The Muses Are Heard" where he follows an opera troupe travelling in the Soviet Union on an early cultural exchange. I love to read him for his poetic sense." Read more...
Peter Hessler, Journalist
Interviews where books by Truman Capote were recommended