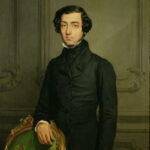 Alexis de Tocqueville
Alexis de Tocqueville (1805-1859) was a French politician from an aristocratic family who wrote incredibly influential books about democracy and the causes of the French Revolution. Despite liberal leanings, more than ten members of Tocqueville's extended family were executed during the Terror, including his great-grandfather, Guillaume-Chrétien de Lamoignon de Malesherbes. Tocqueville travelled extensively, not only to the United States but also to England, Ireland and North Africa. A recent prizewinning biography about Tocqueville is The Man Who Understood Democracy: The Life of Alexis de Tocqueville (2022) by Olivier Zunz, a Tocqueville scholar at the University of Virginia. Coming out in 2023 is a book that focuses on his travels, Travels with Tocqueville Beyond America, by political theorist Jeremy Jennings.
Books by Alexis de Tocqueville
"Tocqueville, in a way, was the first sociologist, though that field didn't exist in the 1830s, when he wrote the book. In it, he looks at the formal institutions of American democracy—Congress, and the presidency, and so forth—but what everybody really takes away from it is that those institutions ride on top of the morals and mores and habits of the underlying society…Tocqueville gives you a different analysis that looks beneath the surface of the visible institutions and tries to understand the moral habits that underlie the workings of those institutions. It's really looking at the society rather than just the formal laws and whatnot." Read more...
The best books on Liberal Democracy
Francis Fukuyama, Political Scientist
"What's striking is that he is able to develop broad analytical categories that relate the French Revolution to the direction of modern society as a whole, which he sees as the destruction of the aristocracy and the coming of democracy. But he adds a twist that will remain influential to this day, which is that he points to the weakness of democracy as a form of government. It has an internal, inherent tendency to lead to despotism unless there are certain conditions that prevent that from happening." Read more...
The best books on The French Revolution
Lynn Hunt, Historian
Interviews where books by Alexis de Tocqueville were recommended
Books by Alexis de Tocqueville