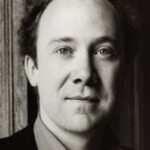 Ben Macintyre
Ben Macintyre is Associate Editor at The Times and writes a weekly column on history, espionage, art, politics and foreign affairs. He is also a bestselling author of non-fiction history books.
Ben Macintyre's books are some of the first in the genre of seriously researched, but popularly written, biographies of spies.
Interviews with Ben Macintyre
The British public-school system, with its hidden homosexuality and feelings of loneliness, encouraged subterfuge and led to a generation of great spy writers and spies, suggests author and journalist Ben Macintyre. He picks the best books on spies.
Interviews where books by Ben Macintyre were recommended
Anthropologist and Afghanistan expert Thomas Barfield gives a panoramic view of Afghanistan, from founding dynasties  to the failed central Asian states of today. He picks the best books on Afghanistan.
It's a difficult task: to identify the very best nonfiction books of the year. But the Baillie Gifford Prize aims to do just that. The chair of the prize's 2018 judging panel Fiammetta Rocco talks to us about the six fascinating titles that made the shortlist.
Art historian Noah Charney takes us on a grand tour of art theft and looting, taking in the Romans, Cosa Nostra and the man who stole the most famous painting in the world and didn't know what to do with it.