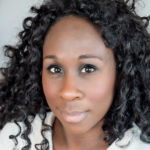 Esi Edugyan
Esi Edugyan's Washington Black has been shortlisted for the Man Booker Prize 2018 and The Scotiabank Giller Prize 2018. Her previous novel, Half Blood Blues, won the Scotiabank Giller Prize and was a finalist for the Man Booker Prize, the Governor-General's Literary Award, the Rogers Writers' Trust Prize, and the Orange Prize. She lives in Victoria, British Columbia.
Esi Edugyan will chair the panel of the 2023 Booker Prize.
Books by Esi Edugyan
***Shortlisted for the 2018 Man Booker Prize***
Washington Black was one long process of discovery for me, of trying on new outcomes, of allowing the character's inner journey to dictate the externals of the novel. It was a different approach than I'd taken in any of my previous novels, and at times that scared me.
Esi Edugyan on Books That Influenced Her
"Its range is astonishing. It's an adventure story, so it's beautifully written, but a lot of the time—and this is why it was good to read it more than once—you rush through because it's so exciting." Read more...
Kwame Anthony Appiah, Philosopher
***Shortlisted for the 2011 Man Booker Prize***
Interviews with Esi Edugyan
Canadian author Esi Edugyan, whose novel Washington Black is shortlisted for the 2018 Man Booker Prize, picks five books that have inspired her novels, and shares wisdom on what it means to read fiction today
Interviews where books by Esi Edugyan were recommended
Looking for the best novels of the year? Kwame Anthony Appiah, professor of philosophy at New York University and chair of the 2018 Man Booker Prize for fiction, gives an in-depth breakdown of the six books that made this year's shortlist, and reflects on why the novel as a form is stronger than ever.