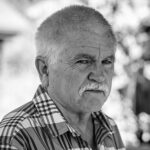 Mike Davis
Mike Davis (Michael Ryan Davis) (10 March 1946 – 25 Oct 2022) was an American writer.
City of Quartz is his most recommended book which "was actually a PhD dissertation that he turned into book form".
Books by Mike Davis
"Davis built on the history and arguments that Carey McWilliams proffered in An Island on the Land half a century earlier. City of Quartz, which was actually a PhD dissertation that he turned into book form, looks at all of Southern California's issues, including water, and weaves them together into a road map for the 21st century, with lots of warning signs along the way. He was wary of air pollution and what would happen with the ever-increasing number of automobiles clogging the freeway system. Sadly, a lot of his predictions have come to pass." Read more...
Dennis McDougal, Journalist
"This is a very interesting book – it contains some very good storytelling about the late Victorian famines in Africa, India, China, Brazil and elsewhere. It could almost be described as a narration of human suffering. It also contains many rare photographs depicting the famines. Davis discusses the role of capitalism and colonialism on the environment and climate during the famines that were related to the El Nino-Southern Oscillation, a climate pattern that produces extreme weather. He investigates the role of the colonial government in British India and elsewhere and documents the inefficiency and detrimental policies that contributed to an increase in widespread hunger and poverty. He also suggests that the vulnerability produced by these famines remained long after the British left. Thus explaining the title – The Making of the Third World. Although the term 'holocaust' is quite controversial when relating to natural disasters, I believe that Davis is suggesting that the famines may have been preventable, and that they were undoubtedly on a massive scale. In the latter part of the 19th century, between 30 and 60 million died as a result of hunger." Read more...
The best books on Natural Disasters
Khurshid Alam, Environmentalist
Interviews where books by Mike Davis were recommended
Disaster reconstruction and climate change expert, Khurshid Alam, talks through five illuminating books on natural disasters and outlines some of the key political issues relating to disaster management.
The writer dubbed "LA's number one muckraker" peels away the phoney baloney to tell us about power, pollution and pulp fiction in the City of Angels.
Architecture depends at the building stage on money and politics, and later on users, time and weather. Jeremy Till picks five books to allow you behind the scenes of the building sites.