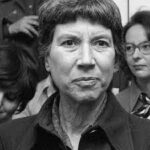 Natalia Ginzburg
Natalia Ginzburg (1916 –1991) was an Italian author whose work explored family, fascism and philosophy.
"It was the hundredth anniversary of her birth a few years ago, and there were lots of reissues going on, fresh translations. But when Natalia Ginzburg first started writing there was a lot of snobbery about the way that she wrote—certainly in Italy—because she wrote about things so plainly. There were none of the more flowery textures in her writing that Italians at the time tended to think marked out great literature. She was stripping it bare.   It's taken time for Italian readers to appreciate that, but now I don't think there would be any question that she's one of the great twentieth-century writers. She's really having a heyday now." Thea Lenarduzzi in the best books on family history.
"The perspective of the female narrator is also important given the predominance of testimonies from anti-Fascist men." Ruth Ben-Ghiat in the best books on Fascism.
Books by Natalia Ginzburg
Interviews where books by Natalia Ginzburg were recommended
Books by Natalia Ginzburg